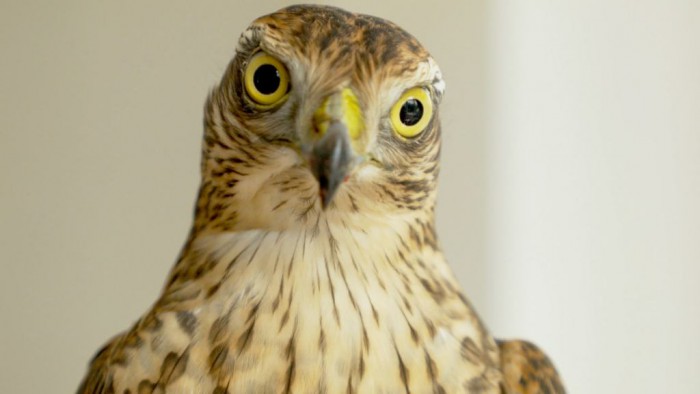 // Cinematographer, Editor, Foleyartist
YAZI
2017, DOCUMENTARY, COLOUR, 5.1/stereo
DURATION: 60 MIN, LANGUAGE: TURKISH, SUBTITLE: GERMAN, ENGLISH
DCP
Seit Jahrhunderten wird im Nordosten der Türkei die Tradition
der Habichtjagd von Vater zu Sohn weitergegeben. Sobald die wilden
Vögel auf ihrer Zugroute im Frühsommer die Schwarzmeerküste passieren,
bricht für den jungen Habichtjäger Ihsan die beste Zeit des Jahres an.
Auf den Bergen sucht er mit zusammengekniffenen Augen den Himmel
nach dem schönsten Habichtweibchen, das es zu zähmen lohnt, ab.
Zwischen Mensch und Tier beginnt eine Annäherung, die mal von Gewalt,
mal von Zärtlichkeit geprägt ist. Wenn der Herbst und die Wachteln weiterziehen,
löst sich das geknüpfte Band.
In einer Gesellschaft, die oftmals in Spuren alter Muster gefangen ist,
bekommt die Freiheitsberaubung des Habichtweibchens eine neue Bedeutung.
Mit dem Wissen, dass jede Freiheit eine mikroskopische Summe von Unfreiheiten
ist, folgt der Film in aufmerksamen Bildern einer wiederkehrenden Geschichte.
-
For centuries in the northeast of Turkey the tradition of hawk hunting
is passed on from father to son. As soon as the wild birds are passing the coast
of the black sea on their migration route, for young hawk hunter Ihsan the best
time of the year begins. Spending days in the mountains with squinted eyes
he scans the sky for female hawks, as only the most beautiful specimen
are worth being tamed. A relationship between human and animal which
is sometimes marked by violence and sometimes by tenderness begins.
When fall is coming and the quails are going, this tie will eventually be undone. In a society which is often stuck in traces of old patterns, the deprivation
of the hawks' liberty gains a new significance. With the knowledge that every
freedom is a microscopic sum of unfreedoms, the film follows this recurring
story in subtle observations.
DIRECTOR: AYLA GÜNEY
SOUND DESIGN: CORNELIA BÖHM
COLOUR CORRECTION: DANKO DOLCH
DCP: TECHNISCHER FILMDIENST
GRAPHIC DESIGN: ELISA TREBSTEIN
FESTIVALS
2021 HER International Film Festival Killarney (IRL)