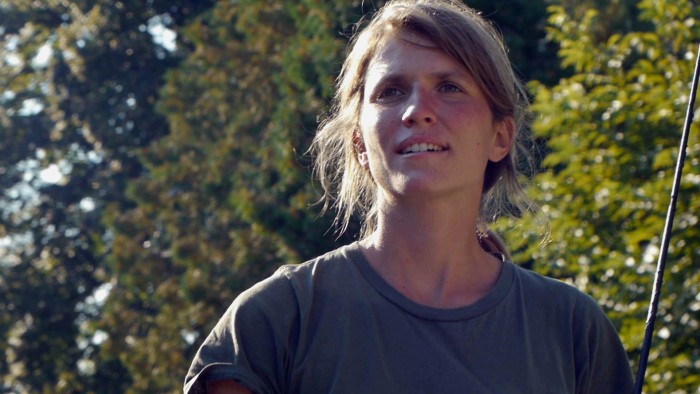 // Director - Cinematographer - Editor - Producer
EVA
2015 - EXPERIMENTAL DOCUMENTARY - COLOUR - 5.1
DURATION: 85 MIN. - LANGUAGE: GERMAN, SUBTITLE: ENGLISH
DCP
JETZT ALS VIDEO ON DEMAND ONLINE ANSEHEN ODER HD DOWNLOAD für 16€ - Anfragen.
Eine junge Frau zieht durch die Lande.
Die Hündin "Piz" und der Ochse "Lothar" sind ihre treuen Begleiter.
Sie setzt einen Fuß vor den Anderen,
während Füchse schreien und Züge vorbei brausen.
Auf ihren sonnenverbrannten, starken Schultern trägt sie unendliche Weite.
Wenn der alte Mond langsam über das Firmament rast,
kommt der Schlaf mit schneeweißer Milch und dunklen Mauern.
Aber Evas Vertrauen ins Leben vertreibt diese Alpträume.
Der Regen verwischt die Grenzen zwischen Ende und Anfang
und die Zeit wächst in knorrigen Ringen um den Ursprung.
"Episch, archetypisch und kraftvoll - diese zeitlose Straße ins Nirgendwo
ist gleichermaßen eine Ode an die Freiheit (der Bewegung) und ein spirituelles
und sinnliches Abenteuer. Ein hypnotisierendes Werk!"
Katalogtext Visions du Réel 2015 - Paolo Moretti
"Mithilfe der Tonarbeit von Cornelia Böhm und der Musik
von Matthias Lindermayr überführt Melanie Jilg das dokumentarische Material
in einen träumerischen, rauschhaften Wahrnehmungstrip."
Katalogtext UNDERDOX 2015
"Eva ist in dem Film von Melanie Jilg eine Art Weltempfänger,
ein Geschöpf, das sich den Elementen aussetzt.
Der Film über sie ist zugleich ganz simpel, insofern er sich einfach
dieser Bewegung überlässt, und höchst komplex,
als es mit wenigen Mitteln radikal um Alles geht."
tip Berlin 2016 - Bert Rebhandl
"Richtiges Spezialfutter: das entschleunigte, kryptische Portrait
einer jungen Frau mit merkwürdig harschem Sound."
taz 2016 - Silvia Hallensleben
"Diese Ode an die Langsamkeit und Freiheit vereint uns wieder mit dem Rhythmus
der Natur und nimmt uns dank ihrer poetischen Filmsprache mit auf eine Reise.
Für ihre stringenten künstlerischen Entscheidungen vergibt die Jury eine lobende
Erwähnung an die Filmemacherin Melanie Jilg für Ihren Film EVA."
Jurybegründung Lobende Erwähnung Provinziale Eberswalde 2016
-
EVA
A young woman travels through the countryside.
She is accompanied by her dog "Piz" and her ox "Lothar".
She is putting one foot in front of the other,
while foxes scream and trains pass by.
She carries vastness on her muscular, sunburnt shoulders.
When the old moon flashes by slowly,
sleep brings fears with snow-white milk and dark walls.
But Eva`s trust in life banishes these nightmares.
Rain blurs the border between beginning and ending
and time grows in knotted circles around the origin.
"Epic, archetypical and powerful, this timeless road to nowhere is both:
an ode to freedom (of movement) and a spiritual and sensorial adventure trip.
A mesmerizing work! "
Cataloguetext Visions du Réel 2015 - Paolo Moretti
"This ode to slowliness and freedom reconnects us to the rythm of nature
and offers us a meditative journey through poetic language.
For her strong artistic choices, the Jury has decided to give
a special mention to Melanie Jilg for her film EVA."
Jury Statement Special Mention Provinziale Eberswalde 2016
DIRECTOR / CINEMATOGRAPHER / EDITOR: MELANIE JILG
CO-DIRECTOR / SOUND RECORDING: SARAH LENA RUH
SOUND DESIGN: CORNELIA BÖHM
SECOND CINEMATOGRAPHER: PHILIPP DIETTRICH
TRUMPET: MATTHIAS LINDERMAYR
COLOUR GRADING: DANKO DOLCH
FESTIVALS
2015 Visions du Réel, Nyon
2015 Underdox, München
2016 Europäische Kulturtage, Karlsruhe
2016 Kreuzberger Dokumentarfilmwoche, Berlin
2016 Provinziale, Eberswalde
2016 Signos de la Noite, Lissabon
2016 White Whale Narrative Filmfest, Los Angeles
2016 CineFest, Los Angeles
2017 Rec - Ricerca Emozionale Collettiva, Bari
AWARD
2016 Special Mention Provinziale, Eberswalde - International Competition
-