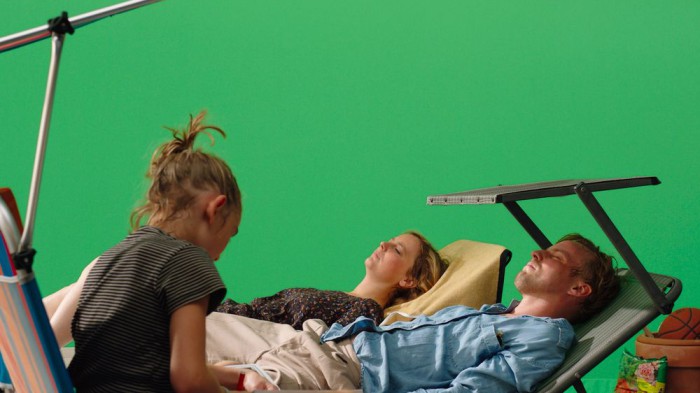 // Editor
Yellow is the Sky
2021 - FICTION - COLOUR - 5.1
DURATION: 62 MIN. - LANGUAGE: GERMAN
DCP
Ein Mann und eine Frau leben zusammen, sie haben eine Tochter.
Eines Abends sagt der Mann, dass er etwas erzählen muss. Sie schaut ihn an, zögert.
Was wird es sein? Eine Affäre? Einen Entschluss wegzugehen? Eine Liebesbekundung?
Er sagt ihr, dass er sich sexuell zu Kindern hingezogen fühlt.
Sie fühlt sich, als würde ihr der Boden unter den Füßen weggerissen werden.
Er dagegen ist erleichtert, es endlich jemandem erzählt zu haben.
Und während die Handwerkerinnen vorbei kommen und der Rasen im neu bezogenen Haus
verlegt wird, tauchen noch weitere Figuren auf:
Da ist Thomas, der depressiv und voller Angst nach Worten sucht und Mareille,
die geschockt von dem Verhalten ihrer Freunde ist, und Xaver,
der offen in seinem Freundeskreis über seine Neigung spricht.
A studio building, green screen walls, a family having dinner and a father
who wants to tell his partner something. He is sexually attracted to children.
It's summer. Outside, crickets chirp in the night.
The man Philip is relieved to have finally told it someone.
And his wife Anna feels like the ground is being pulled out from under her.
And while the lawn is being laid in the garden, more characters appear:
There's Xaver, who has fallen in love with a boy in his neighborhood,
and Mareille, who is shocked by her friends' behavior, and Thomas,
who distances himself further and further from his friends out of shame.
What does it mean to live with pedophilia? As a person affected, as a partner?
As a father and as a friend? What can it mean for a circle of friends
and for the everyday life of all of them?
And while answers are sought, the green screen areas of the house remain empty.
DIRECTOR: LAURA KANSY
CINEMATHORAPHER: NINA MOOG
PRODUCTION: lost and not found films, HFF München

FESTIVALS
2022 Fünf Seen Filmfest, München (D)
2023 Grenzlandfilmtage Selb (D)